Embrace Your Inner Luddite
31 October 2012
SATURDAY 10 NOVEMBER 2012
HUDDERSFIELD
UK

10.00AM – 4.30PM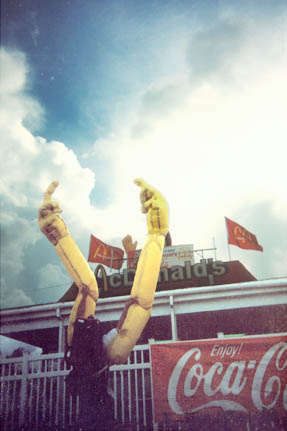 IMAGE: Brett Bloom from Temporary Services
Embrace Your Inner Luddite
aims to bring out the rebelliousness in all of us, join
My Dads Strip Club
to imagine wild acts of consumer rebellion that reclaims and subverts urban space.
The aim is to bring together contemporary rebels, using art as an instrument to inspire, liberate, and counteract the damaging effects of advertising and consumer culture. After the workshop, armed with a "toolbox" of tactics and techniques (and a few cardboard spanners), you'll be ready to implement a small project of your own.
This is an opportunity to explore connections between interesting individuals from a range of different backgrounds ... so we need variety. Whether you're a nobody, a somebody, a creative mutant, dysfunctional thinker, guerrilla gardener, scientist, filmmaker etc.... add yourself to the list.
Embrace Your Inner Luddite
is part of the UPRISING series of events that have been brought together by the LBT to celebrate the 200th anniversary of the Luddite uprising in West Yorkshire. The workshop is also supported by the Compass Live Art Initiative.
To book your place on the workshop
call the LBT Box Office 01484 430528

Lawrence Batley Theatre, Queen's Square, Queen Street, Huddersfield, HD1 2SP