Amid the new culture of fear generated it appears that anxious publics are willing to put up with many more intrusions, interceptions, delays and questions than was the case before 9/11. Insecurity Guard plays with a reversal in roles to test how far do subjects collude with, negotiate and resist practices that are intrusive?
INSECURITY OFFICER - Mark Barnsley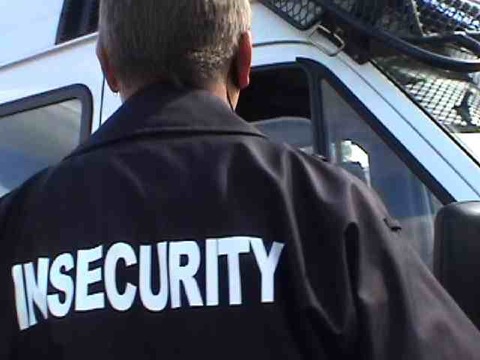 Considered 'an enemy of the state', having been held for eight years in UK maximum security prisons Mark Barnsley worked a shift as an 'in-security guard' for My Dads Strip Club.

LONDON - Defence Systems & Equipment International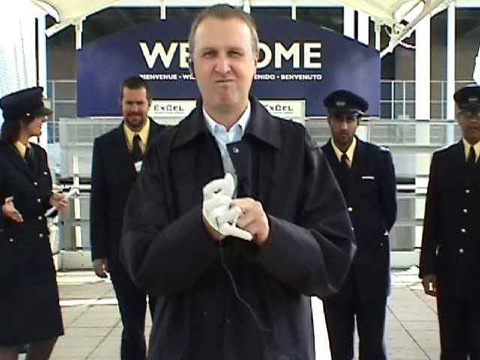 Seen here standing in front of a row of DSEi security guards Officer Barnsley puts on his strip search gloves to greet arms dealers entering DSEi (Defence Systems & Equipment International) one of the world's biggest trade fairs for guns, bombs, military planes & ships, small arms, mines and tanks which took place in London from 9 - 12 September 2003.The unsuspecting arms dealers willingly submitted their ID to Barnsley for inspection. The DSEi security guards were forced to run forward shouting,
"No, No, don't show him"
AMSTERDAM - US Consulate General
Second anniversary of 9/11
"Terrorists do not distinguish between official and civilian targets. These may include facilities where American citizens and other foreigners congregate or visit, including residential areas, clubs, restaurants, places of worship, schools, hotels, outdoor recreation events or resorts and beaches. U.S. citizens should remain in a heightened state of personal security awareness when attendance at such locations is unavoidable."
U.S. DEPARTMENT OF STATE OFFICE WORLDWIDE CAUTION STATEMENT.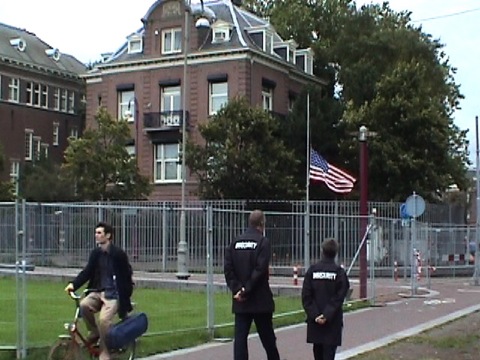 "U.S. citizens are cautioned to maintain a high level of vigilance, to remain alert and to take appropriate steps to increase their security awareness."
U.S. DEPARTMENT OF STATE OFFICE WORLDWIDE CAUTION STATEMENT
AMSTERDAM - Van Gogh Museum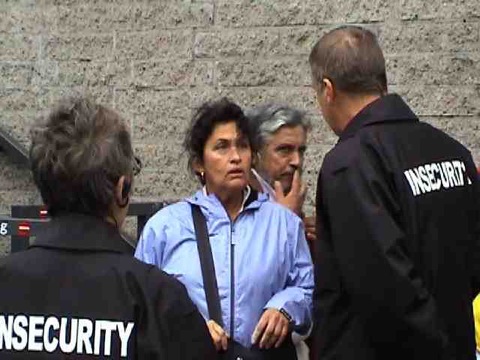 Our Officers inform visitors of an insecurity situation
We found US visitors to the Van Gogh Museum more than willing to fall into compliance and respond to our requests without question. Many thanked our Insecurity Officers for being there and claimed they felt safer.
Later in the day, participants turning up for their first day to register at the Next 5 Minutes Festival at De Baile obligingly allowed our Insecurity Officers to search them before entering the building.