In 2004 we paid a visit with
Mad Pride
to 'Art Works in Mental Health' held in Leeds, sponsored by Pfizer (the biggest pharmaceutical company in the world)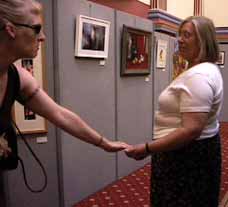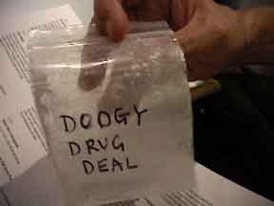 A rep was seen sneaking drugs to visitors at the exhibition. A free sample of drugs and text about Pfizer's dodgy activities was inserted in every catalogue
WHAT PFIZER SAYS
We discoverand develop innovative, value-added products that improve the quality of life of people around the world and help them enjoy longer, healthier and more productive lives. The company has three business segments:pharmaceutical, animal health and consumer health care. Our products are available in more than 150 countries.
WHAT OTHERS SAY ABOUT PFIZER
In 1990, the US Generic Pharmaceutical Industry listed Pfizer as one of the companies accused of fraudulent and deceptive practices.
Pfizer tests cosmetics and drugs on animals. In 1988 alone, the company used 18,398 'recordable' animals in its experiments.
In 1992, Greenpeace listed a Pfizer plant as one of the ten worst polluters in the South East of England.
Pfizer was the target of a Greenpeace campaign in 1988 for dumping industrial waste in Eire, and a US group listed Pfizer as one of the top fifteen corporate contributors to global pollution, based on 1987 figures.