Spiderman
26 April 2006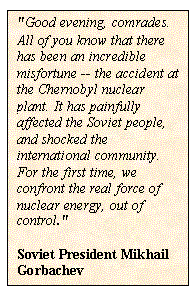 26 April 2006 marked 20 years since the Chernobyl accident.Despite having a nuclear disaster on its doorstep Finland is rapidly expanding it's nuclear power programme. With this in mind Spiderman went to western Finland to Eurajoki to the site of the new nuclear reactor to take them a bag of cement. He heard they'd had big problems with faulty concrete foundations. He warned that even his superpowers can't help if there's another disaster...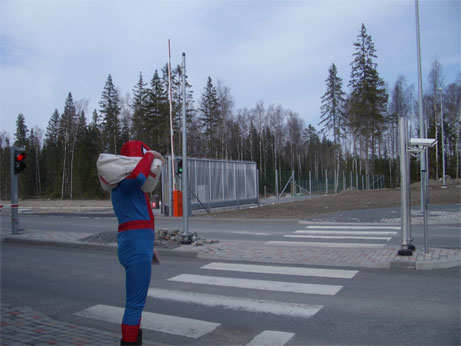 Later in the local city centre of Pori, people who were too depressed to campaign joined Spiderman in their bedclothes ( so depressed they couldn't be bothered to get dressed).

Video of Spiderman action (main language Finnish)
WITH GREAT POWER COMES GREAT RESPONSIBILITY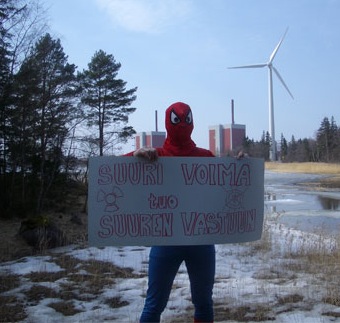 Eurajoki Nuclear Power Plant Finland
( HE IS STILL DEPRESSED FROM BEING BITTEN BY THAT RADIOACTIVE SPIDER)
It might be POLITICAL
26 April was a day for the policially depressed.... marking 20 years since Chernobyl.
Politically depressed joined us in their bedclothes ( we were so depressed we didn't bother to get dressed).